Falling for a New England Road Trip - USA
Looking for the perfect Fall trip but want to stay in the US? Hop in your car or grab a rental and look no further than the New England states! I lived in NYC for 8 years before finally making the time to explore all that the surrounding states had to offer. My parents always loved coming to visit in the Fall to see the leaves change but we always went upstate to go apple picking or to wineries, but last year we decided to change it up. My parents drove all the way up from South Florida and after picking me up in Brooklyn, we took a 4 day road trip, packing in as much as we possibly could & it ended up being one of our most favorite family memories. We saw the most beautiful shades of leaves and had amazing food! Read on to see how we made it to 7 states and made the most of our 4 day road trip!
Day 1: We left New York City early in the morning and made our start up to Newport, Rhode Island, which is one of my favorite towns in the New England area, and our 1st stop. My parents had never been so I thought it would be a great way to start off our trip since there is so much history there and the scenery is just gorgeous. About an hour or so outside of the city, we spotted a small farm stand with pumpkins and yummy fall treats so we made a pit stop to grab some snacks for our drive. Pumpkin bread is always a must! We arrived in Newport just in time for a delicious lunch at The Lobster Bar down on the wharf. I ordered the lobster roll (image below) and it was just what I had been craving. Before heading over to start the mansion tours, we picked up a sweet treat at The Cookie Jar which is only a short walk from The Lobster Bar. Most of the mansions give their last tour between 4pm and 5pm so make sure you plan accordingly. We only had enough time to visit a couple of the mansions so we chose the Rosecliff mansion and the Marble House. These houses are beyond beautiful and stepping inside is one like going back in time to a completely different era. After touring the mansions and their grounds, we headed towards our hotel located in New Hampshire. We chose Manchester, New Hampshire to be our home base for 2 days because of its' very central location within the New England states. We also had limited hotel options since we booked our hotel only a few weeks before our trip so I highly advise that you book your hotels early!
Day 2: Our second day started off very early… 5am early! But the early wake up call was well worth it! My mom and I kicked off the day with a sunrise hot air balloon ride with High 5 Ballooning based out of Derry, NH. It was my first hot air balloon ride and it was so much fun. We went over a lake and had great views of the Fall foliage. After our balloon ride, and super fun landing (we got stuck in a tree in someone's backyard. HA!), we had a nice breakfast spread complete with mimosas! It was a wonderful way to start the day and an amazing experience! For our next stop, we drove North to Portland, Maine which is a cute, little town on the bay known best for their chowder and we were on the hunt! We stumbled upon Gilbert's Chowder House, which had a line out the door, so we figured it must be good and stayed in line to find out and we were so glad we did! I ordered the chowder bowl and it was everything I wanted it to be! After we filled up, we walked the town and visited the little shops on the main street. My favorite being LeRoux Kitchen which had everything imaginable for your kitchen. Once we had seen all that Portland had to offer, we made our way back towards the hotel but not without stopping at Cider Hill Farms first for all things apple! Apple picking is something I love doing every year, with hot apple cider and apple cider donuts in hand of course!. Since is was October, we thought it would really cool to stop at Salem at night during our trip so that's how we finished up day two. They happened to be having their annual Haunted Biz Baz Street Fair so we joined the crowds and browsed the booths of different vendors and found some great decorations in shops. There were people dressed up as characters from horror films and witches on the streets and shops where you could purchase potions and spell books! I do, however, wish we had gotten there a little earlier to make it to the Salem Witch Museum, I think it would be fun to learn about the history even more.
Day 3: This day might have been my favorite (aside from the hot air balloon ride)! I've had this obsession with Vermont for a few years now and we finally went there on the third day. After checking out of our hotel, we hit the road and took the Kancamagus Highway through the White Mountains of New Hampshire. If you take any recommendations from this post, take this one! You absolutely have to drive the Kancamagus Highway! It has the best foliage, breathtaking lookout stops, and a covered bridge… what more could you want?! The speed limit is relatively slow, which is great because you and everyone else driving through are taking in the scenery and pulling off to the side to take it all in. Once we were out of the mountains, we made our way through Vermont, stopping for a couple of large jugs of Vermont maple syrup on the side of the road and more goodies from a country store. We attempted to stop at a corn maze but after following the very vague sign and getting lost for 30 minutes, we ended up arriving right when they were closing and missing out on that adventure. The drive on this day was much longer than the prior days so we decided to take the evening easy and call it a night pretty early. Our hotel was in St. Albans which is in the Northwest corner of Vermont. Once again, we booked our hotel a little on the late side and most places were filled up.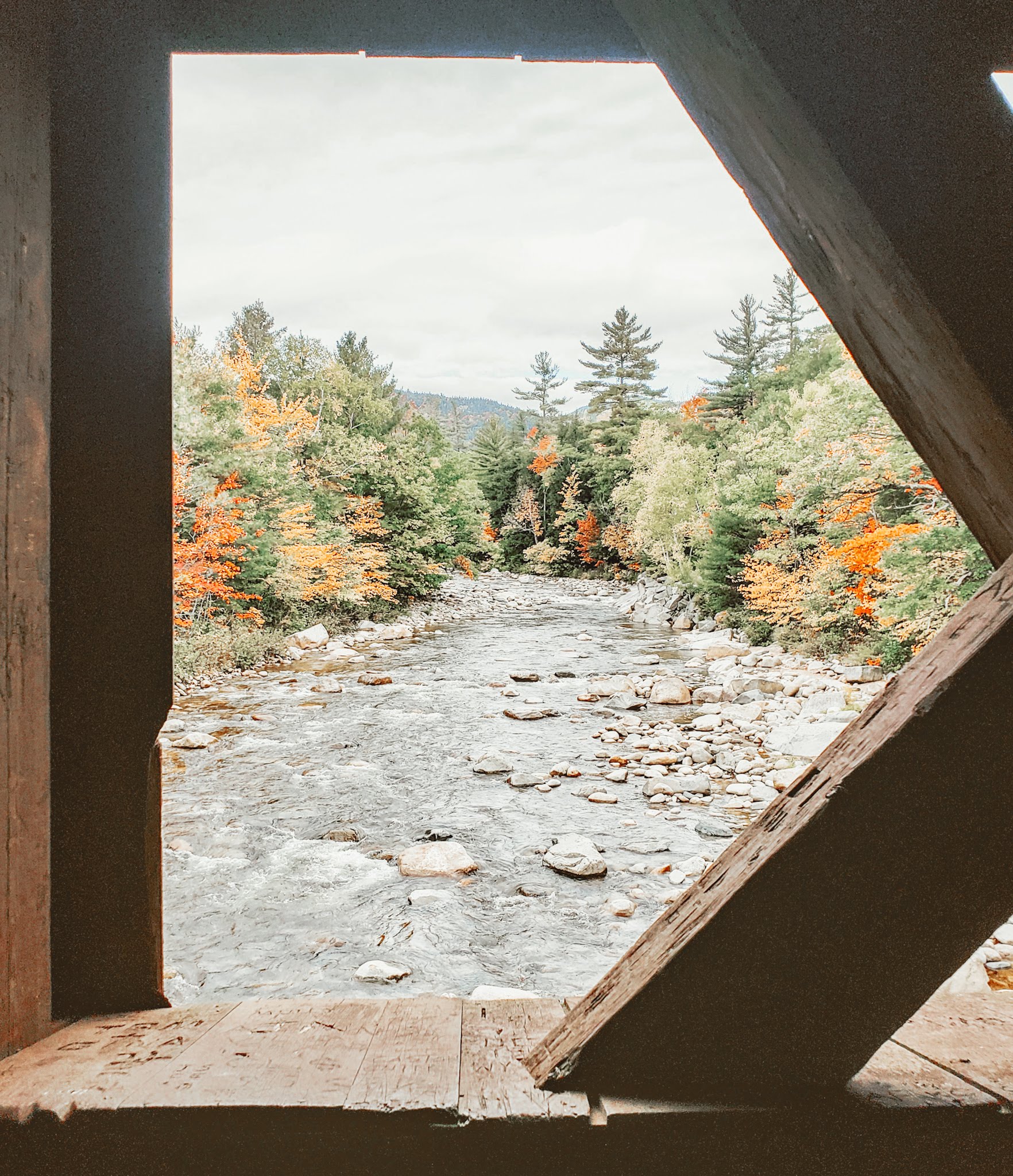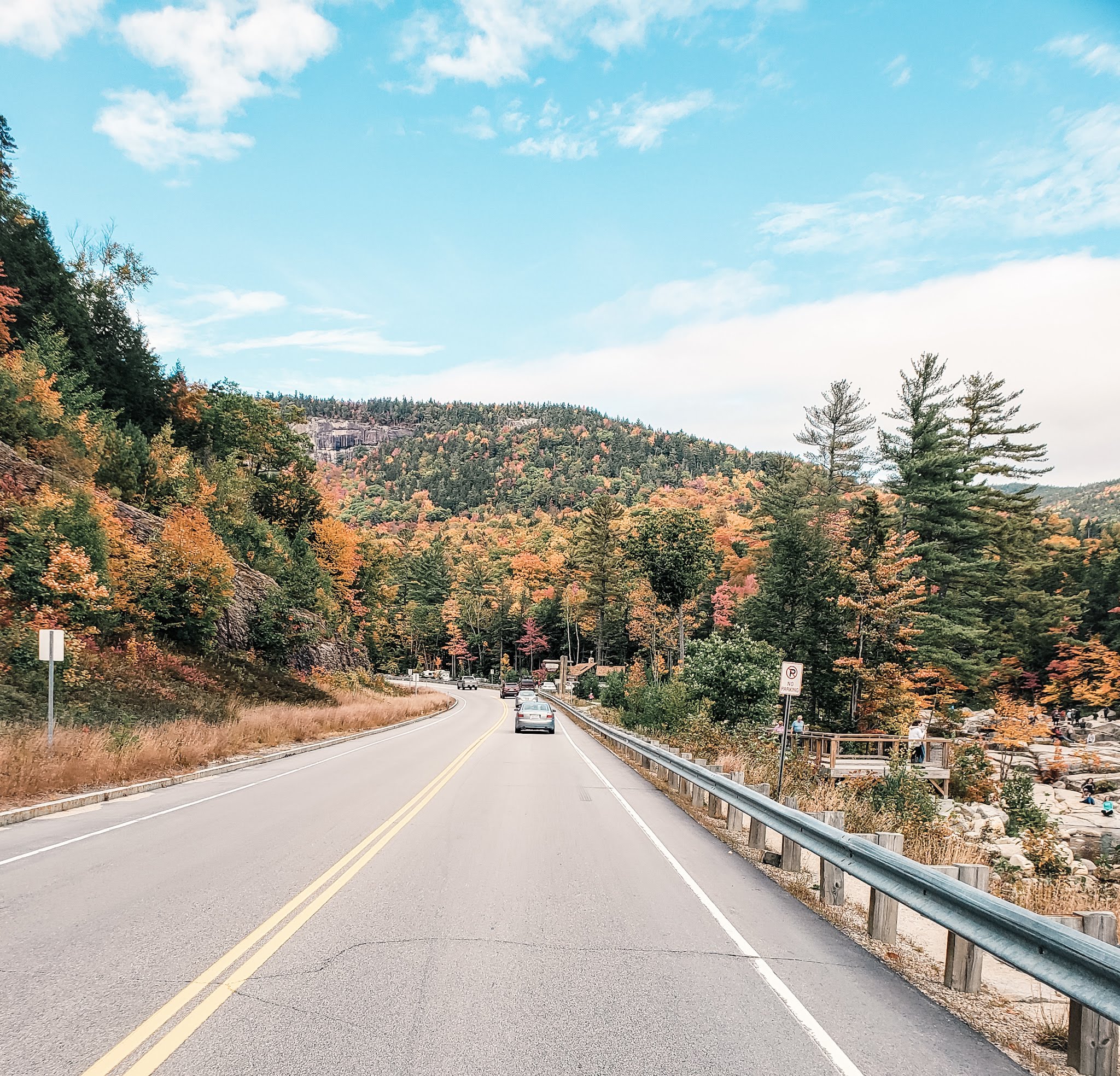 Day 4: Our fourth, and last day, was also really great. After checking out of our hotel that morning, we drove South to Stowe, Vermont. Stowe is the cutest town and I plan to go back during the winter to see it with snow! There are many shops and county stores lined up along the main street that have great souvenirs. I always try to get a Christmas ornament everywhere I go and they had so many good ones, I think I left with 3. We also spent some time driving around hunting for covered bridges since there are so many in this area. I also refused to end the trip before having more apple cider donuts so we stopped at Cold Hollow Cider Mill for lunch and a dozen of the addictive treats. As we left Stowe, my dad had the great idea of stopping to ride one of the gondola at Stowe Mountain Inn. It was a little foggy that day but it was still a great experience and you would have some great views on a clear day. Once we were back on the road, we made one last scenic drive through Smugglers' Notch, a narrow road through the Green Mountains which gorgeous foliage and views (photo below). After passing through the Green Mountains, we were on the highway headed back to Brooklyn.
This was the first road trip I've had with my parents since I was very little and I absolutely loved it. We bonded, laughed, and made so many memories, I hope we can do more road trips like this one! And if you haven't taken a Fall foliage trip, I highly recommend that you do! It's one of mother nature's beautiful gifts and it's so close to home.
Happy travels!